Welcome! Enjoy my shop and thank you for stopping by!
I was medically retired from the Army with PTSD after my tour in Iraq where I served as a combat medic. It was a long struggle to assimilate back into society. I learned the art of metalworking as a way to busy my hands and my mind. I found that working with my hands to create jewelry was very therapeutic. I have been creating jewelry since 2007. Doing so has enabled me to help myself heal.  I am blessed to be able to to pursue what has become my passion.
I create pieces that are different because we are all unique. I create only one of a kind or limited edition pieces from any design. I implement a variety of traditional metalsmithing techniques and love using unique and unexpected materials in my work. I use .925 and .999 silver because they are the highest quality of silver and will stand the test of time. I use gemstones, cabochons, rough stones and other natural elements in my work. I use recycled materials whenever possible. I want Taylor Made Silver to leave a large impact on personal style while leaving a small imprint on the environment.
Learn More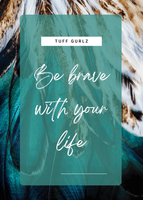 The Tough Gurlz Collection
Tuff Gurlz jewelry is made for women who have been knocked down by life.  It's for women who have been beaten, bloodied, and scarred by life.  It's for women who got back up and ask life for more!  Never forget what's inside...you are Royston baby!
Tuff Gurlz jewelry is made with only Royston Turquoise because it is my favorite.  It is never made with the prettiest stones and it is intentionally flawed with dents, dings, scratches, and uneven patina.  Wear your Tuff Gurlz jewelry to remind yourself of how far you have come!
Learn More